The Ultimate Relocation Guide: Moving To A New City
Posted by Chris Nevada on Thursday, October 20, 2022 at 9:40 AM
By Chris Nevada / October 20, 2022
Comment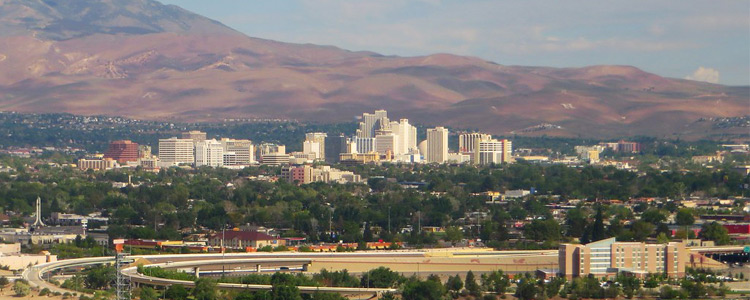 Moving to a new city, regardless of why is a major life event. Even when carefully planned and thoroughly researched, the most steel-nerved individual can become stressed and overwhelmed at the thought.
View All Northern Nevada Cities, Neighborhoods and Communities >>>
If you are facing a move to a new city, or in the process of considering it, there are a handful of things you will want to consider. Below we will touch on a number of important aspects of moving and a few questions you will want to ask yourself.
Table of Contents
Chapter 1: Prepping to Move
Decide on the city
For most people, moving to a new city is something we do because we have to. Whether it be for a job, significant other, or school, moving out of our comfort zone, i.e. where we currently are, is typically brought on by an outside force. If that is the case, the decision of where is almost always made for you.
If you are part of the second group - moving out of choice - then you will need to decide which city you want to go to. Many times, people decide to move out of their current city because they are unhappy with their lifestyle. Whether an unfulfilling job or relationship or just purely for a change of scenery, a new city can provide a fresh outlook on life. Maybe you have recently visited a new city such as Sedona, Arizona, or Ocean City, Maryland, and fell in love with the area, or are blindly taking a leap of faith and moving sight unseen. No matter your reasoning, choosing where you want to live will be step number one.
Research the city
Now that you have decided where you are moving to, it is a great idea to find out as much as you can about the area. Spend some time online reading about the city, things to do, popular neighborhoods, amenities offered, and more.
If you are moving a family, it would be prudent to find out information on schools, medical services, recreation facilities, and community parks. Going alone? It would still be time well spent looking into entertainment, services, and overall livability.
Take a look at what the locals have to say! No one knows this city like a lifelong Reno resident. Reading local blogs, social media pages, columns and more will give you valuable insight into what it is truly like living in the city. Have questions of your own? There are many different forums online which allow you to post questions and receive responses.
Research where you want to live in the city
Beyond the city as a whole, you will want to do additional research on where within the city you want to live. At this point in your research, it may make sense to enlist the services of a local real estate agent. Realtors wear many different hats, some of which are tour guides and local historians. An experienced agent can tell you the ins and outs of neighborhoods, suburbs, communities and subdivisions throughout the city. Not only are they a fountain of valuable knowledge, but they can also help pair you with the area that best suits you and your family's needs.
Some important topics to research when considering an area to live in your new city should include:
Is the neighborhood or community safe?
The distance to work/school/extracurriculars
Are there public transportation stops nearby?
Before finalizing any living arrangements, most people will want to take a trip to their new city and scout out the area for themselves. Planning a mini-stay in a neighborhood you are considering is an excellent way to see firsthand what it will be like to live there. Try booking an Airbnb for a weekend or even a week and you will be able to learn things you didn't even know you'd care about.
When purchasing a home, many buyers will want to walk through the property before putting in an offer. This is also a great opportunity to ask questions regarding the neighborhood and what it will be like when you live there.
Chapter 2: Before the Move
Once you have solidified where you are going to live, there are further steps you will want to take to prepare your family and/or yourself for the big move.
Create a Moving Budget
Moving can be expensive and costs can add up quickly, catching you off guard. Sitting down and compiling a list of moving expenses is an excellent way to prepare yourself financially (and mentally) for the costs you will likely incur.
Some things to consider when creating a moving budget:
Cost of scouting out the area, house hunting, sight-seeing
Cost of moving out of your current property - damage deposit, cleaning costs, commission on a sale, etc.
Cost of movers and shipping, especially if moving out of the area
At this point, many of these costs will be rough estimates, however, even with those in place, you will be able to get a ballpark figure on your numbers.
Contact Utility/Subscription/Services, etc
Much like when moving within the same city, one will need to contact their utility companies, magazine subscriptions, mail services, and more. When moving to a new city you will need to do the same, however, there may be other factors at play and you will want to think about:
Do the same utility companies serve your new city? If not, you will need to set up new accounts after you inform your previous companies of your planned move.
Are my subscription services available in my new city? Depending on where you are moving to some companies don't serve every city equally.
Ongoing physical services such as lawn care, cleaning services and more will need to be canceled and likely not be the same companies available in your new area.
Make sure to advise medical services such as family doctors, dentists, therapists and more of your move and that you will likely be transferring your care and records to a new office.
Find a Job
As mentioned before, many times people are moving due to a job offer or opportunity. If that is the case, then feel free to jump ahead. For those who are moving without employment secured, you will likely be looking for a job either before or upon arrival. Even if you aren't planning on finding or applying for any jobs before moving, there are a handful of things one can do in preparation.
For those planning to find employment when they move, below are a few preemptive steps to take:
Research the local job market through online postings found on sites such as indeed, Workopolis or LinkedIn.
Reach out to contact you may have in your new city and let them know you are planning on looking for a job when you get there and to keep you in mind if they hear of any openings.
If you don't know anyone in your new area, try speaking with contacts you may have at large businesses. Many times companies have multiple offices around the country or even the world and may be able to know of upcoming jobs.
Find out which companies and businesses are in your new city and make a list of potential workplaces you may be interested in.
For movers planning on securing a job before you move, all of the above would still be steps you will want to take, however, you will also want to apply for jobs online, reach out to companies directly, and make plans to travel for interviews if necessary.
Schedule the Move
With home and job (or prospective job) in place, you will want to schedule the big day! Depending on your living situation, you may be limited to when you are able to move. If you are selling a home or moving out of an apartment, you may be dictated by the closing day or end of the lease. Moving in may have the same restrictions. If your dates line up beautifully, and you are able to choose the move-in date, it makes it beneficial to plan some additional time to settle in. Not only is moving in and of itself a big task but so is settling into an unfamiliar place.
If you have a job lined up and know your start date, you may want to consider allowing extra time before so you are not stressed on your first day of work. Generally, even a few days off after a move will allow you to get your bearings and unpack your necessities.
Some instances will require movers to find interim housing, whether it is in their current city or new location. If this is the case, having a storage unit or something of the sort can be quite useful, especially if it is only a short time.
Plan the Move
Once the move date has been scheduled you are able to plan the actual move. If you are moving a significant amount of belongings a significant distance, you will want to look into all your options.
Uhaul's are a popular moving option and allow people to pack up their belongings and drive them to their new city on their own. For some, this is not an option as they have too much to transport or the distance is too far. If this is the case there are many companies available that will ship belongings on your behalf.
Pricing out a number of moving options will ensure you find the best method at the best rate to suit your needs and budget.
Start Packing
A dreaded chore for many movers is the inevitable packing. There are a few things you can do to make the task as easy and stress-free as possible, which include:
It may feel like the big day is far away, however, moves tend to creep up on you and are here before you know it. Starting early will ensure you have plenty of time to pack and organize your belongings.
When moving to a new city, especially when it is far from where you currently live, you will want to take only what you truly want and need. Not only is this better for your checkbook, but you will also thank yourself when it comes time to unpack. Sorting through your belongings and throwing out or donating what you don't want to take is a great way to make the job easier.
Not much is more frustrating than just having moved to a new house, in a new city, and not being able to find your coffee maker. When packing there are a handful of ways you can ensure you stay organized. From master lists to color coordination, the idea is to know what is in each box and where it goes at the new house.
Especially for travelers heading out a far distance, an overnight bag filled with all your essentials will be a lifesaver after a busy day of moving. Medication, phone chargers, important paperwork, toiletries and more can be kept on hand and easily reachable.
Chapter 3: After the Move
You've made it! Though you may have been doubtful at some points, you have now made your way to your new city! First and foremost, take time to celebrate the momentous occasion.
Now that you've somewhat settled into your new house, there are still a few things you will want to do to make the transition as seamless as possible. Though the big steps are complete, many times there are a handful of little things we tend to overlook. Below is a list of not as common things to consider once you've moved to a new city.
Once you are in your new city, at a permanent address, you will want to update your driver's license, identification information, medical records, and all pertinent paperwork for tax purposes.
For those who have moved out of their previous jurisdictions, it is important to make sure you are legally registered to vote in your new city.
For many, registering your children for school is a top priority when moving to a new city. If you have not done so for any number of reasons, once established you will want to contact the local school board to ensure your child is properly registered.
If you have moved with a four-legged friend, many cities will require you to register your pet and obtain updated tags. You can find this information on most city websites.
Moving is an exciting and overwhelming task, and when coupled with the prospect of heading to a new city, it can feel downright terrifying. However, with research and planning, the process can become a whole lot easier! Regardless of what is drawing you to a new city - a job, a person or an adventure, remember to embrace the change and have a little fun!
Google Reviews
⭐⭐⭐⭐⭐ "Chris is an incredible agent who always had my best interests in mind. He was responsive, conscientious, and experienced. Could not have trusted him more!" -Merrill B. on Google