Read This Before Moving To & Living in Carson City, NV! - The Definitive Guide [2022 Edition]
Posted by Chris Nevada on Monday, November 7, 2022 at 6:15 AM
By Chris Nevada / November 7, 2022
Comment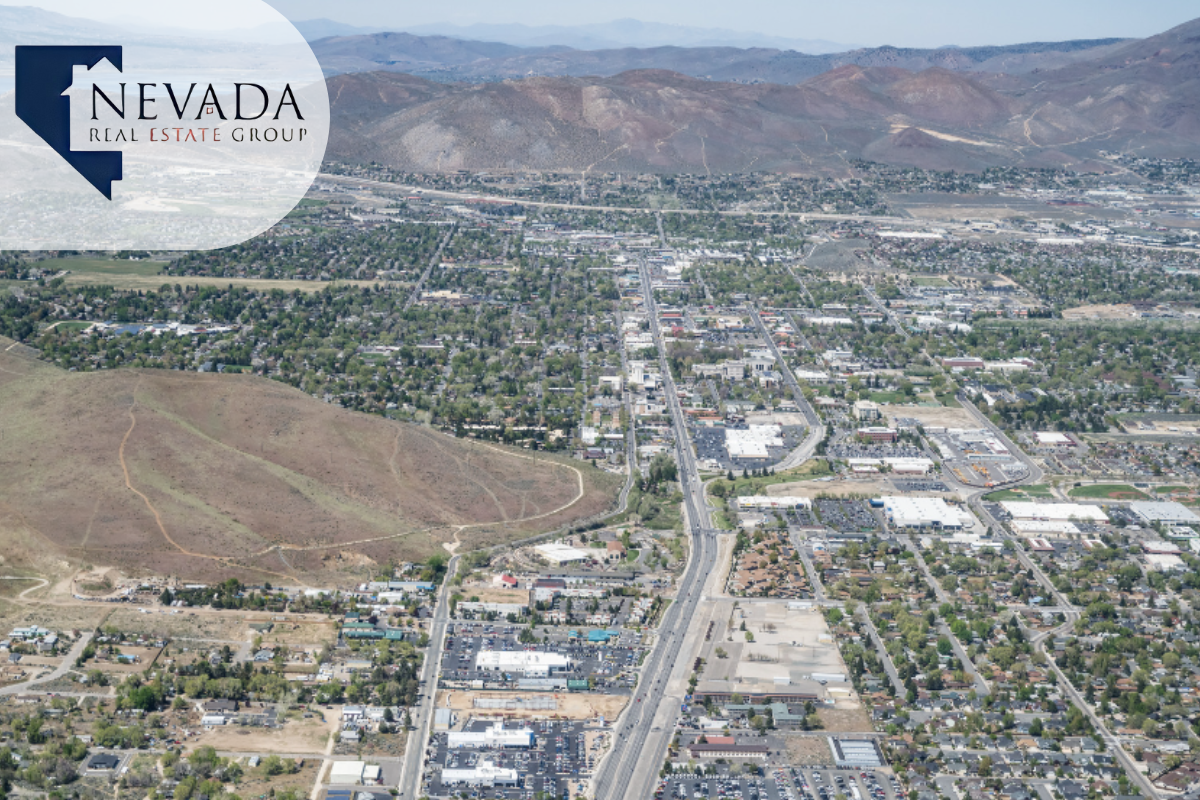 Carson City is a beautiful and vibrant city located in the State of Nevada. The state capital, Carson City, is technically known as the Consolidated Municipality of Carson City. Home to approximately 55,000 residents, the friendly city is the 6th largest in Nevada. What began as a stopover area for California-bound emigrants has since flourished into a thriving and diverse city that is filled with excellent neighborhoods, well-ranked schools, top-tier amenities, and some of the friendliest people in the country.
Below, you'll find an overview of helpful information about Carson City, Nevada, and a few of the reasons why residents love calling them home. If you are looking to settle in Carson City make sure to speak with an experienced real estate agent near you to help you find the best home for your family and lifestyle. The team at Nevada Real Estate Group has been helping residents of Nevada and all over the country find the perfect property in Carson City, Sparks, Reno, and throughout the state. Talk to one of our agents today!
View All Homes For Sale in Carson City, Nevada >>>
Everything You Need to Know About Moving To and Living In Carson City
The History of Carson City
The first English American settler to arrive in what is now known as Eagle Valley was John C. Fremont. Fremont and his exploration party made their way to the area in January of 1843, at which time he named the river flowing through the valley Carson River. This was in honor of the mountain man, Kit Carson, who Fremont hired to accompany his part on their exploration.
Later, settlers named the area Washoe in reference to the Washoe people who had inhabited the site before. The name is still used today as Carson City is located within Washoe County.
By 1851, a trading post was constructed, and the area became a popular stop for California-bound travelers. In 1858, Abraham Curry purchased the Eagle Station and renamed the settlement Carson City. Having the forethought that Carson City would one day serve as the Nevada state Capital, Curry reserved a 10-acre plot of land in the center of town for the construction of a capital building.
A year later, gold was found in nearby Comstock Lode, which helped the growth and development of the city. Curry continued to construct buildings throughout town and, in 1859, built the Warm Springs Hotel.
Thanks to the persuasion of a Carson City lawyer, William Stewart, who escorted territorial governor James W. Nye from San Francisco to Nevada, the city was chosen as the territorial capital. The hotel was loaned out as a meeting space for the territorial Legislature and then converted into the territorial prison. Today, the building is still a part of the state prison.
Significant events over the years, such as wars, slowed the growth of Carson City. The city had excepted that it would never grow to big-city status and dubbed itself "America's smallest state capital".
In 1969 Carson City merged with Ormsby County to officially become the Consolidated Municipality of Carson City. Due to this merger, Carson City is now technically one of America's largest state capitals, having city limits that encompass 146 square miles.
Presently, Carson City is a charming and lovely city that is home to beautiful parks, accessible amenities, family-friendly neighborhoods, tasty restaurants, varied shopping, and much more.
View All Homes For Sale in Carson City, Nevada >>>
A Look at the Real Estate Market in Carson City
Real estate in Carson City, Nevada is varied; however, a large majority of homes for sale are single-family detached properties. The city is home to a few condominium and townhome communities; however, because of a restriction which was adopted by the town in 1991 - which stated no building within a designated area is allowed to surpass the capitol in height - there are few high rise buildings found in the city.
A family-friendly city, Carson City's real estate is predominately spacious, single-family detached homes that offer between two and four bedrooms and two and three bathrooms. Many homes throughout the area are set on comfortably sized lots and have attached one- or two-car garages.
The median sale price for a home in Carson City is roughly $290,000, with over half of the recently bought homes falling between $200,000 and $398,000. The majority of residents of Carson City are homeowners, however, not but too much. Around 57% of residents own vs. 43% who rent.
There are several new developments and subdivisions which have and continue to be built throughout the city. At one time, the majority of the city's population lived in Eagle Valley, which was located along the eastern edge of the Carson Range, which is a branch of the Sierra Nevada.
Neighborhoods in Carson City
There are various neighborhoods dotted throughout Carson City that offer prospective homebuyers lovely areas to call home. Family-friendly communities provide attractive features such as neighborhood parks, safe streets, and quiet cul-de-sacs. Carson City is a blend of mature, well-established areas and new developments. Some of the most popular neighborhoods within the city include:
A newly developing neighborhood in Carson City. Awarded builder Lennar Homes is behind the community, which offers a collection of single-family detached homes. There are three floor plans to choose from within the development, which falls just to the east of S. Carson Street. A unique feature offered by the builder is the Home within a Home option. These are ideal housing options for those looking for upscale multi-generational homes.
Lakeview Neighborhood
A popular community that falls to the northwest of Carson City. Residents of the neighborhood enjoy being set apart from city life while quickly accessing all of the necessary amenities. Washoe Lake is just to the north of Lakeview and provides hours of water activities and fun for the entire family. There is a blend of mature, established homes and new or renovated homes found in the Lakeview neighborhood.
This neighborhood is located on Carson City's east side, slightly south of the Carson City Airport and west of the Empire Ranch Golf Course. This mature community is filled with mainly single-family detached homes, which are suitable for singles, couples, and families alike. Residents are able to find themselves in downtown Carson City quickly and are also surrounded by many necessary amenities such as schools, medical services, restaurants, and shopping locations.
Things To Do in Carson City
Carson City is a fun-filled city with plenty of things to see and do for the entire family. Regardless of one's interests and hobbies, Carson City is chock full of beautiful parks, trails, museums, art venues, and a vast collection of shops and restaurants.
Along with a slew of its own activities and amenities, Carson City is also ideally located near other thriving cities which provide further opportunities for fun and excitement. Reno, Nevada, known as the "biggest little city in the world", is located only 32 miles north of Carson City. Reno is known for its list of things to see and do, which stretch far past the popular casino area.

For those interested in finding outdoor activities, Lake Tahoe is the perfect spot to venture to. Located just 20 short miles from Carson City, Lake Tahoe is North America's largest Alpine Lake. The stunning area has become one of the most popular vacation destinations for travelers from around the globe. Regardless of what time of year, there is always something for visitors to do. Summer is filled with days spent at the beach, hiking through travels and enjoying breathtaking views, or taking advantage of the expansive lake. During the winter months, skiing, snowshoeing, and snowmobiling are favorite pastimes.
View All Homes For Sale in Carson City, Nevada >>>
Explore The Great Outdoors
Nature enthusiasts will find plenty of opportunities to spend time outside in Carson City. The city is home to several parks and recreation spaces that offer playgrounds, open green spaces, picnic areas, scenic trails, and paved pathways. These parks include:
Mills Park is one of the city's most popular parks as it plays host to a variety of additional features. The 51-acre community park offers visitors great amenities such as:
Playground Equipment
Roller Hockey Rink
Sand Volleyball Courts
Paved Trails
Horseshoe
Picnic Pavillion
Also found at Mills Park is an expansive aquatic facility that has an Olympic-sized pool, parent and tot pool, therapy pool, outdoor pool, and exercise and weight room. The Mary Teixeira Pavilion is a large, open-air pavilion that hosts events such as concerts, craft fairs, farmer's markets, and more. The Community Center is another popular feature and has a commercial kitchen, gymnasium, classrooms, meeting rooms, and the Bob Boldrick Theater. Finally, Mills Park is the site of the Wungnema House Museum which is a historic site that people can rent for private events and gatherings.
Other parks located in Carson City include:
Riverview Park
Fuji Park
Carson River Park
Greenbelt Park
Mayor's Park
Sonoma Park
Schulz Ranch Park
Sunset Park
A Focus On Education in Carson City
Residents of Carson City fall under the jurisdiction of the Carson City School District. There are a total of ten schools located within the city limits. There are 6 elementary schools, 2 middle schools, 1 high school, and 1 alternative high school in the district. Educating about 7,800 students a year, Carson City School District is well rated and boasts high graduation rates, strict safety measures, and a wide range of extracurricular programs.
Each school works to endorse an educational model which considers the needs of each student individually. Schools throughout the district embrace technology and strive to set each child up for future success. Some highlights of the district include a graduation rate of roughly 85%, the Career and Technical Education program has nearly every student passing the State's Work Readiness Assessment, and has integrated a dual-credit course launched by the Univerity of Nevada.
Elementary Schools located in Carson City include:
Bordewich-Bray Elementary School
Empire Elementary School
Fremont Elementary School
Fritsch Elementary School
Mark Twain Elementary School
Al Seeliger Elementary School
Middle Schools located in Carson City include:
Carson Middle School
Eagle Valley Middle School
High Schools located in Carson City include:
Carson City High School
Pioneer Alternative High School
Arts & Culture in Carson City
Carson City has a rich and interesting history that can be learned about through the museums, historic sites, and landmarks found throughout town. Residents and visitors are able to educate themselves on the area by reading up on the founders of the city or heading to local sites. There is a small art scene found in Carson City that celebrates local talent which includes art, music, and theater.
Some of the historic buildings located in Carson City are the Historic St. Charles Hotel, the former Carson City Post Office, The Governor's Mansion, and the Paul Laxalt State Building which currently houses the Nevada Commission on Tourism.
Though one can find a handful of art and culture in the museums and galleries dotted throughout Carson City, there are also plenty of opportunities by just strolling through town. Beautifully crafted murals bring life and color to neighborhoods around Carson City and include Misson Possible Mural, Visual Growth Mural, and Home means Nevada Mural.
View All Homes For Sale in Carson City, Nevada >>>
Carson City's Shopping & Dining Scene
Carson City is home to a handful of tasty restaurants which are sure to impress even the pickiest of eaters. From local diners to national chains, the dining options are varied, catering to any craving one might have. Options for restaurants in Carson City include:
Bank Saloon - known for handcrafted classic cocktails
Black Bear Diner - serving up All-American fare
Expresso Yourself Cafe - a delicious cup of coffee, every time
Las Marias Mexican Restaurant - a varied authentic Mexican menu
Shopping is also plentiful within Carson City and encompasses everything from everyday necessities to one-of-kind finds. The city is filled with a plethora of stores, malls, and plazas that offer a variety of retailers and services to meet all needs. Downtown, Carson City has an eclectic mix of locally-owned shops, such as:
The Purple Avacado
Rocking and Rolling
Kaleidoscope
Hanifin's Art & Antiques
Brewery Arts Center Artisan Store
One will also find a wide collection of grocery stores, pharmacies, hardware stores, home decor, and many more.
Carson City is a beautiful and welcoming city. Growing from humble beginnings into a thriving city, the area is home to family-friendly neighborhoods, top-rated schools, excellent amenities, and lovely community and neighborhood parks. Ample outdoor recreation opportunities are found throughout the area as are exciting entertainment venues. It's not hard to see why this fabulous city is a popular choice for those moving to Nevada.
Contact A Carson City, NV Real Estate Agent Near You
As you can see Carson City, Nevada, is a fantastic place to buy a home. Whether you are in the market for a perfect rural oasis, traditional suburb, or urban retreat, Carson City is a warm and welcoming city that boasts excellent schools, a thriving economy, plenty of recreation, and some of the friendliest residents in the country! The experienced real estate agents Nevada Real Estate want to help you find your next home. Contact our office today to find out about our current up-to-date listings.
View All Carson City, Nevada Homes for Sale
Google Reviews

"They provided many options for us to look at that fit our wants and needs. We ended up with *the* perfect home! Relocating from Vegas to Reno can be stressful, but they took charge and made it as easy as possible for us." -Nicole O. on Google

"Would highly recommend to anyone in the market to buy a house in the Reno area!" -Jenn E. on Google

"We moved from SoCal to the Reno area and our realtor and her Nevada Real Estate Group were fantastic! This realtor went above & beyond for us!" -Bill L. on Google

"Chris is an incredible agent who always had my best interests in mind. He was responsive, conscientious, and experienced. Could not have trusted him more!" -Merrill B. on Google

"This team was very genuine and eager to find us the right home. They were always there for us when we had any questions or concerns and were extremely helpful during this process. We feel truly lucky to have worked with this real estate group and would recommend them to anyone who has any real estate needs!" -Andrew H. on Google

"If you are looking to buy or sell real estate look no further! This team has extensive knowledge & will go the extra mile for all your needs. I highly recommend the Nevada Real Estate Group." - Katrina K. on Google
And read more of our 894+ reviews on Google.