MUST Read Before Moving Or Living In Incline Village Nevada - Definitive Guide [2022 Edition]
Posted by Chris Nevada on Monday, November 7, 2022 at 12:21 PM
By Chris Nevada / November 7, 2022
Comment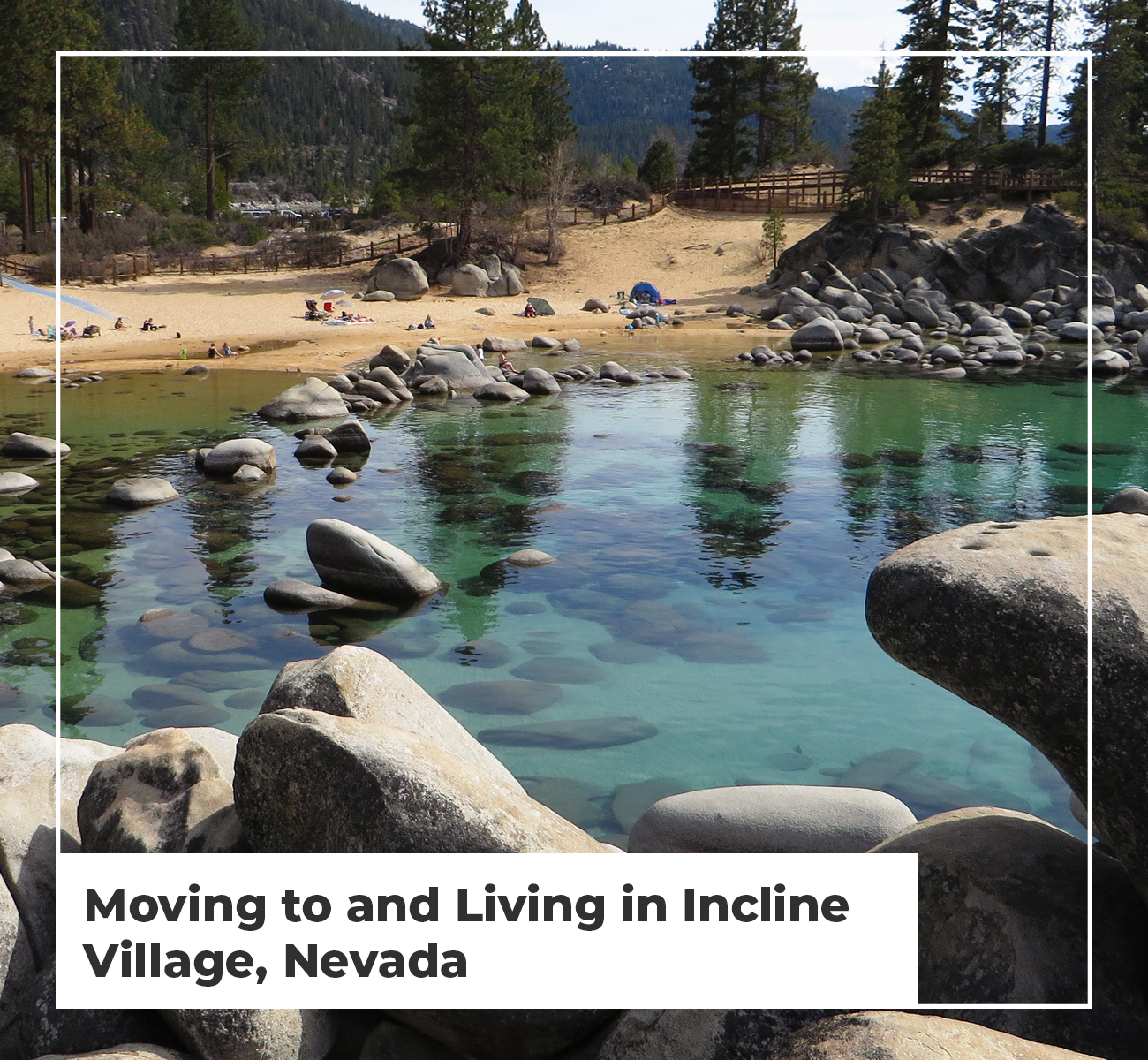 Spread out along the northeast edge of gorgeous Lake Tahoe, Incline Village offers scenic views, exciting adventures, and fascinating culture. From elegant restaurants to beautiful family homes, this place has a upscale atmosphere. Spend your days relaxing on a sandy beach or skiing down one of the area's breathtaking mountains. An abundance of activities is just one of the reasons buyers are finding their way to Incline Village, Nevada.
As you read this guide, you'll learn the basics of moving to and living in Incline Village, Nevada. You will discover the gracious homes, outstanding amenities, natural settings, and educational opportunities awaiting those who choose Incline Village as their home.
View All Homes For Sale in Incline Village, Nevada >>>
Table of Contents
History of Incline Village, Nevada
Beginning with the establishment of its Post Office in 1884, Incline Village has a uniquely intriguing history. The village was named for the Sierra Nevada Wood and Lumber Company's incline railway.
The SNW&L line served mining operations during the Comstock Lode boom of the 1800s. The mines needed timber, and the woods around Lake Tahoe had plenty. The lumber company felled the trees, placed them on the railway, and transported them up 1400 feet. From there, the logs were dropped by flume and a 3000-foot tunnel to Carson City.
Thus, Incline Village burst into Nevadan history dramatically. The story does not end there. George Whittell purchased this land from the lumber companies. From 1938-1959, Whittell broke up this land into small parcels and went mostly to people who wanted to build homes along the lake, but some corporations also bought the property.
Near the end of this time, in the mid-50s, Whittell sold 9,000 acres of land to investors who turned a neat 500 percent profit by selling it to the Crystal Bay Development Company. By 1968, the land had been divided up into 1,700 lots where over 3,000 homes were built. Today, many people are moving to and living in Incline Village for reasons that range from tax advantages to its thriving eclectic culture.
Luxurious and Friendly Neighborhoods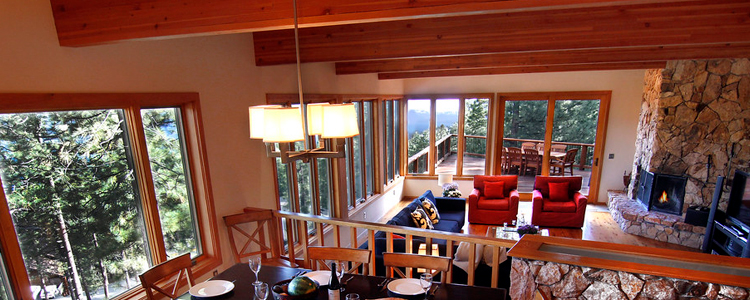 One of the most exciting things about moving to and living in Incline Village, Nevada is discovering its variety of neighborhoods. You are sure to find the ideal fit for your lifestyle among these outstanding communities.
Some neighborhoods are focused on a central theme, including two golf course communities, a ski community, and lakefront communities. Others offer many different views and activities. Among them, you will find luxury homes with private beaches, family homes with large, wooded lots, and homes with views of the canyons.
There are many places to settle within Incline Village each with their unique benefits. Some of the most popular neighborhoods in Incline Village include:
Central Incline - The central part of the town area, this neighborhood allows an easy walk between beaches, stores, and restaurants. With many condominiums as well as older homes, this community is comfortable without an extravagant price tag.
Championship Golf Course - With a central location and large, level lots, Championship Golf Course may just be the most popular neighborhood in Incline Village.
Eastern Slope - This area offers scenic views of the lakes, forests, and mountains. It is large, often steep lots that sit at an elevation of about 7,000 feet and get substantial snow that melts quickly. Easy access to the Mount Rose Highway makes the Eastern Slope neighborhood a convenient place to live.
Incline Village Lakefront - With the most luxury homes in Incline Village, the lakefront neighborhood offers private beaches, stunning views, and a dazzling assortment of upscale single-family homes and condominiums.
Jennifer - Jennifer is another spot in Incline Village with a high elevation and significant snow. This neighborhood offers some excellent home buys with lower prices than some other areas in Incline Village.
Lakeview - Located west of Village Blvd, Lakeview has great access to Lake Tahoe. With lots typically about a half-acre in size, this subdivision has a sandy beach, a pool, and many places to picnic or play. The bustling Village Center is close by, yet the neighborhood is quiet and friendly.
Mill Creek - Mill Creek has both spacious, new luxury homes and older family homes, along with a few condominiums. Fairly large, forested lots create a pleasant place to make your home.
Mountain Golf Course - Between the town and Mt. Rose Highway, the Mountain Golf Course community is a quiet neighborhood with beautiful mountain views, and of course, a challenging golf course.
Ponderosa - Most homes in Ponderosa have scenic lake views and forested lots. With several creeks running through the neighborhood, Ponderosa offers an enticing natural setting and a quiet community.
Ski Way - Near Diamond Peak Ski Resort, Ski Way is most popular for vacation homeowners. Most dwellings are condominiums and planned development units, but you will also find a few cozy family homes in this neighborhood.
Upper Tyner - Awe-inspiring views are the key feature of Upper Tyner. From its glamorous mansions or its quaint cabins, you can see the magnificent Sierra Nevada in all its glory.
The Woods - The richly forested area called The Woods has many of its original homes, which you can acquire at affordable prices. The neighborhood is an easy-going place where you can get away from the traffic and enjoy ample peace and quiet. Yet, you are close to all the amenities of Incline Village.
View All Homes For Sale in Incline Village, Nevada >>>
Abundant Amenities Available in Incline Village

Aside from the bountiful outdoor activities and fabulous dining experiences available, the area has abundant amenities. If you love shopping or need to pick up something practical, you can find your joy in this spectacular place. You can browse in Lady Luck Skate & Smoke Shop, spend an afternoon checking out the selections at Village Market and Village Meats or choose a stunning gem at Forever Rox.
To support your outdoor activities, take a trip to the Village Ski Loft, the Big Blue Bike Company, Bike Tahoe, Tahoe City Kayak, or Hyatt Sport Shop. If you are the artsy type, check out Easel and Wine custom parties, Talbot Photography, or Handmade by the Lake. Good Ink Creative can help you with online marketing or portfolio designs, while an afternoon at GO2 Aroma and Oxygen Bar will boost your energy and relieve your stress for the evening ahead. The village offers everything from pet stores to resale shops to florists.
Incline Village Education Options
Incline Village residents benefit from several educational opportunities. From preschoolers to college students to full-fledged adults, everyone can learn, grow, and participate in a plethora of educational activities.

Washoe County School District
The Washoe County Elementary, Middle, and High School are the local public schools, providing instruction and extracurricular activities for children in grades K-12. This district includes Reno, Sparks, Sun Valley, Gerlach, and of course, Incline Village. The district has 66 primary schools, 16 middle schools, and 13 high schools, as well as a special education school. Other schools in the district include Innovations High School, Gerlach K-12, Truckee Meadows Community College High School, and the Academy of Arts, Careers, and Technology.
Lake Tahoe School
The Lake Tahoe School is a private school with pre-kindergarten, elementary, and high schools. The school offers small class sizes and a focus on academic excellence. 95% of students participate in sports programs.
Sierra Nevada University
Sierra Nevada University is a private university located in Incline Village. Students can excel in their choice of traditional majors from fine arts to business. Students can learn resort management, get a Master's in teaching, or achieve a Masters of Fine Arts. The university hosts summer visiting artists workshops where famous artists share their techniques and talents. As for athletics, Sierra Nevada University is an excellent place to participate in college-level skiing and snowboarding.
Washoe County Library - Incline Village Branch
Education never needs to end when you live in Incline Village. People of all ages can find books on nearly every subject as well as fiction and art books at the Washoe County Library's Incline Village Branch.
View All Homes For Sale in Incline Village, Nevada >>>
Sightseeing and Outdoor Activities in Incline Village
With so much to see and do in Incline Village, living here never gets old. The village and its surroundings offer beautiful views and a wide range of outdoor activities.
Incline Beaches
Incline Beach starts with a peaceful, sandy beach and adds picnic tables, grills, and a playground for the kids. From Ski Beach, you can launch your boat into the lake or stop for a relaxing picnic.
For a more intimate beach experience, try the Burnt Cedar Beach & Pool. You can bask in the heated pool or fire up a grill for an evening meal. Ski Beach and Burnt Cedar Beach are private but open to Incline Village property owners and their families. Just pop over to the Incline Village Recreation Center to get your beach pass!
Incline Ski Resorts
Diamond Peak Ski Resort
High above Incline Village, you will find the Diamond Peak Ski Resort. With slopes of varying difficulties, you'll find the perfect run for family members and friends of nearly every age and experience level. At this resort, you will find two ski centers - the Child Ski Center for the youngest skiers, and the Ski & Snowboard School for more mature skiers and snowboarders. As you ride the lift to the top of the slope, enjoy every moment of the Lake Tahoe views.
Mt. Rose Ski Resort
At Mt. Rose Ski Resort, beginning skiers and Olympic athletes alike can enjoy the thrills of outdoor fun and challenge while taking in views of the Humboldt-Toiyabe range and the Washoe Valley. With its summit at 9,700 feet, this resort offers verticals that are among the longest in North America. Along with lift services, tantalizing food, and repair shops, you have every element needed for a good time on the slopes.
Sand Harbor
Take State Highway 28 three miles south of Incline Village to find the intriguing natural area at Sand Harbor. With numerous hiking trails, giant boulders, and access to the lake, you can partake in diverse activities, including kayaking, snorkeling, paddle boarding, and swimming. After a day picnicking, hiking, or luxuriating in the sun, relax around the fire pit or take in the Shakespeare Festival at the Sand Harbor outdoor theater.

Lake Tahoe Nevada State Park
At Lake Tahoe Nevada State Park, you can participate in many different outdoor adventures. Within the backcountry of this park, there are trails for hiking, horseback riding, and mountain biking. This state-designated Primitive Area also has two primitive campsites for anyone adventurous enough to rough it. Also in the Lake Tahoe Nevada State Park, you can spend your days fishing, cross-country skiing, picnicking, or lounging on the beach.
Grand Lodge Casino
Grand Lodge Casino is located at the Hyatt Regency Lake Tahoe in Incline Village. You can play all your favorite casino games, enjoy fine dining, relax at the spa, take a dip in the lagoon-style pool, or use it as a base for biking, skiing, hiking, and sightseeing. End your day with a quiet hour on the patio, watching the sunset over the beautiful natural scene.
Restaurant Options in Incline Village for Everyone
The large assortment of restaurants in and around Incline Village offers not only a variety of cuisines but also meals for every lifestyle and budget. Whether you opt for upscale dining or a quick meal at one of the many national fast-food chain restaurants, you are sure to leave pleased and satisfied.
Relax with friends at Alibi Ale Works, where you will find amazing craft beers, coffees, wines, and non-alcoholic beverages as well as tantalizing snacks and meals at their three Incline Village locations. Or stop for a scrumptious old-school dinner at Bertie's Hot Chicken. If you're ready for an Asian-American taste delight, try Frederick's Fusion Bistro on Tahoe Boulevard.
Within Incline Village, you'll also find Jiffy's Pizza, Lone Eagle Grille, and Rookie's Sports Bar & Grill. The village also offers Bite American Tapas, burroBURRO Tex-Mex Restaurant, Clay Oven, Cutthroat's Saloon, and Gus' Open Pit Barbecue. For something more upscale, eat at La Fondue, or head over to Crystal Bay to dine at the Crystal Bay Casino Steak & Lobster House.
Regardless if you are looking to call Incline Village your permanent home, or looking for an idyllic vacation community, there is something for everyone. Outdoor enthusiasts, nature-lovers, and everyone in between will quickly fall in love with the slice of heaven that is this Lake Tahoe community.
View All Homes For Sale in Incline Village, Nevada >>>
Contact An Incline Village, NV Real Estate Agent Near You
Incline Village, Nevada, is a fantastic place to buy a home. Whether you are in the market for a rural oasis, traditional suburb, or urban retreat, Incline Village is a warm and welcoming city that boasts excellent schools, a thriving economy, plenty of recreation, and some of the friendliest residents in the country! The experienced real estate agents Nevada Real Estate want to help you find your next home. Contact our office today to find out about our current up-to-date listings.
Nevada Real Estate Group, located in Northern Nevada is a highly skilled and knowledgeable real estate team. Whether you are buying, selling, or curious about the market, Nevada Real Estate Group has the answers. Get in touch today!
View All Homes in Incline Village, Nevada
Incline Village Property Types
Google Reviews

"They provided many options for us to look at that fit our wants and needs. We ended up with *the* perfect home! Relocating from Vegas to Reno can be stressful, but they took charge and made it as easy as possible for us." -Nicole O. on Google

"Would highly recommend to anyone in the market to buy a house in the Reno area!" -Jenn E. on Google

"We moved from SoCal to the Reno area and our realtor and her Nevada Real Estate Group were fantastic! This realtor went above & beyond for us!" -Bill L. on Google

"Chris is an incredible agent who always had my best interests in mind. He was responsive, conscientious, and experienced. Could not have trusted him more!" -Merrill B. on Google

"This team was very genuine and eager to find us the right home. They were always there for us when we had any questions or concerns and were extremely helpful during this process. We feel truly lucky to have worked with this real estate group and would recommend them to anyone who has any real estate needs!" -Andrew H. on Google

"If you are looking to buy or sell real estate look no further! This team has extensive knowledge & will go the extra mile for all your needs. I highly recommend the Nevada Real Estate Group." - Katrina K. on Google