How To Get Your Real Estate License In Nevada: The Ultimate Guide
Posted by Chris Nevada on Wednesday, October 19, 2022 at 3:52 PM
By Chris Nevada / October 19, 2022
Comment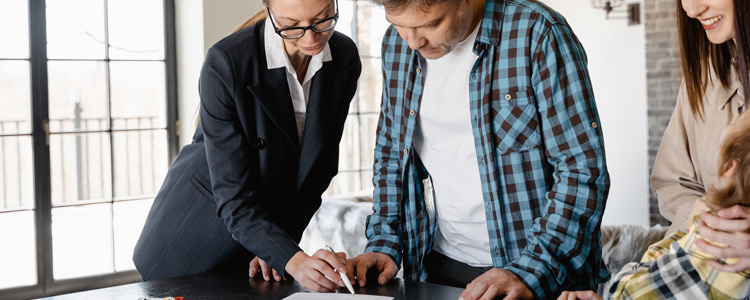 You've decided you want to start a new journey and obtain your Real Estate License. A great career choice, for sure, but it isn't always easy knowing where to begin and what is required of you. This is your ultimate guide to getting your real estate license in Nevada.
Meet the requirements for Nevada
Fingerprints
Pre-licensing course
Pass exams
Submit your license application
Be an American citizen
Be at least 18 years of age
Nevada Real Estate License Requirements
Every state will have its own requirements for you to receive your Real Estate License, so it may get confusing. Doing the research can save you time, energy, and maybe even money. Below is a list for you to follow if you are considering a new career in real estate.
Fill, sign and send in your application form
You will have to provide your fingerprint and a money order made payable to the department of public safety. You can also fill out a verification form that is issued from an approved Fingerprint vendor which you can find online.
Original state and national passing exam results need to be 75% or higher. Your exam results can't be older than 12 months.
A fee of $125
Education requirements
Provide proof of your pre-licensing education; 90 hours required by completing the following:
- 45 hours or 3 college credits in Real Estate Principles
- 45 hours or 3 college credits that will need to include 18 hours of Nevada law
There you have your checklist if you will be starting before October of 2021. Hours of education will be changing after October 2021 and those changes include:
The total number of hours will be moving up to 120
- 45 hours/3 credits in Real Estate Principles as it was before October
- The same 45 hours/3 credits that must include the 18 hours of Nevada law
- Additional 15 hours/1 credit in contracts in the real estate transaction to the extent allowed when you have a real estate license
- Another additional 15 hours that include 3 hours in the foundation of the relationship between broker and agents.
- You will also need to complete 3 hours of risk reduction.
Fingerprints:
To be qualified to be a Sales Agent, fingerprints need to be sent to the department of public safety. Keep in mind these will expire after 6 months so be sure to get them into the approved Fingerprint vendor as soon as possible. You can find your list of
approved vendors by calling, ((702)486-4033), emailing, ([email protected]) or visiting their website, (http://red.nv.gov/)
Licensing Exam
You have now finished your hours of education and submitted your fingerprints, now it is exam time. The cost for you is $100. This is the final cost, whether you are taking one part or two. The two sections you are to pass are your state and then the national.
National Specific
When taking your National specific exam, you will want to allocate yourself 120 minutes. There will be 80 questions, and everyone will need to answer at least 60 of those correctly.
State Specific
This is to be done in one hour and you will have 40 questions, answering a minimum of 30 correctly to pass.
In Nevada, if you fail one section, State or National, you will only need to retake the specific section over again, rather than both. Although this is accepted, you will only have one year from the written date for your second chance. If you don't complete the makeup in under a year, you will need to hand in another application and pay additional fees.
These tests will be done on a computer and you will not be allowed an open book or cheat sheets, so you will need to put in the study time. There are resources online to help you, including practice tests, which are usually at no cost to you so take advantage of those.
Preparation for Your Exams
Test-taking anxiety is a real thing and people don't always feel like they are prepared, even though they have studied hours upon hours. Below is a list of some of the material covered in the national section to help you better prepare yourself:
Real Calculations
Contracts
Transfer of title
Property ownership
Mandated disclosures
Financing
With your State section being only half the total of questions as your national, you will still want to have an idea of which areas to focus on when studying. Here are some of the subjects:
Advertising
Record keeping
Special topics
Commission duties and powers
Study Tips
As mentioned above, some people have test anxiety so being fully prepared can help reduce their levels of anxiety. Whether you have some of this anxiety or not, everyone could use a good study session or two before taking a test or big exam. You may learn differently than someone else, so it's no surprise that the way you study, may not be the same approach someone else may take. I have found a few generic but helpful tips for studying effectively.
Get organized and stay organized
Make a schedule and try your best to stick to it
Eat well and stay hydrated
Make time for sleeping and unwinding
Summarize key points rather than reading full chapters of textbooks/material
Those core study guidelines are a good way to keep yourself on track. A way to stay organized is to set yourself up with a working area if you haven't already done so. Make sure to keep the area free of clutter and give it a nice refresh every couple of days by dusting and/or lighting a scented candle. A nice area for studying might just be one of the most important things anyone can do. Also, be sure to have good and proper lighting for those late-night study sessions.
Buy yourself a planner or post sticky notes on the wall closest to your designated study area. Set aside the appropriate amount of time to study and focus on one area at a time. Include breaks in your planner, coffee time, even sleep. This can help hold you accountable and stay and track.
Eating a well-balanced diet is good for everyone, but it is especially important to help keep you focused and energized while you prepare for your real estate licensing exam. Eating healthy isn't always easy, grabbing a snack is sometimes easier than cooking a full meal with all your food groups. Setting aside time every few days for meal prep is a great way to ensure you are eating right during the weeks leading up to your tests.
Unwind and relax; give yourself some time every day. This isn't limited to just sleeping. Binge watch a few episodes of your favorite tv show, watch a movie, go for a walk, jog or run. There are plenty of ways for people to relax, it just depends on you and what you enjoy doing. No one can study 24 hours a day, 7 days a week, it just isn't healthy, and you will burn yourself out. If you burn yourself out before exam day, all that hard work was for nothing. So, make sure the work pays off and give yourself downtime. Be sure to give yourself 8 hours of sleep a night.
An important part of studying for anyone, no matter what techniques you are using is to summarize the key points. Continuously reading chapters upon chapters gives you less of a chance to retain important information. Whichever way works best for you, be sure to take out any key information and use that as your study guide.
Submitting Your Application
You did it, you've passed your exams, and are ready to move on to the next steps. Getting your license, in addition to your hours of learning and exam taking, you must submit the proper documentation. The application process includes:
Providing proof of education and completion and passing of exams
Submit your Fingerprint verification
Pay the fee of $125
This is the ultimate guide to getting your real estate license in Nevada. It may look like a lot but when you break it down, it is just a short period of work for a lifetime career in real estate. We wish you all the best in starting your journey and hope you have great success. Like, share and comment so others like you can learn how to earn their real estate license in the state of Nevada.
Google Reviews
⭐⭐⭐⭐⭐ "Chris is an incredible agent who always had my best interests in mind. He was responsive, conscientious, and experienced. Could not have trusted him more!" -Merrill B. on Google