Home Security Systems Homeowners Should Consider
Posted by Chris Nevada on Wednesday, October 19, 2022 at 6:51 AM
By Chris Nevada / October 19, 2022
Comment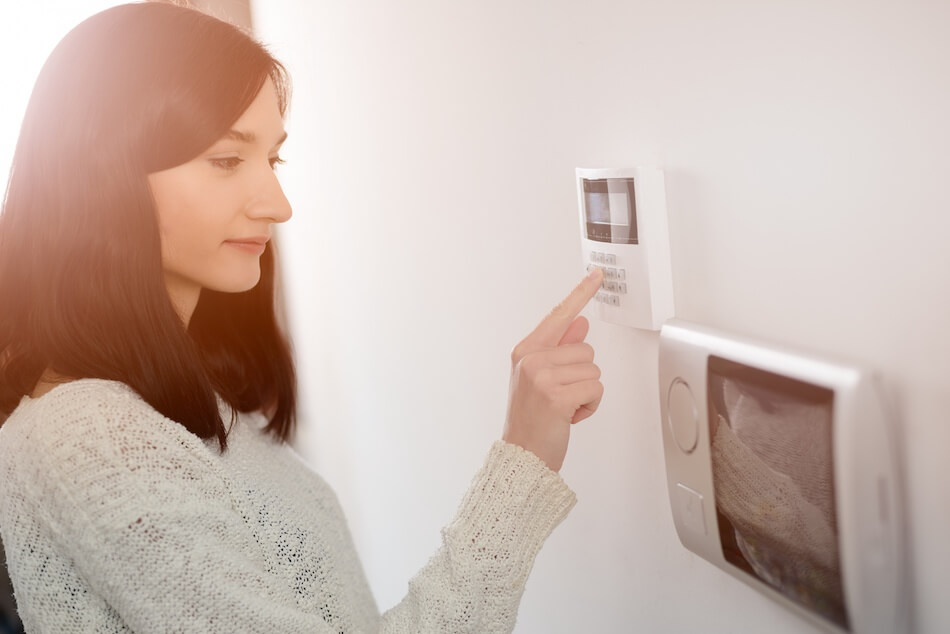 Over 3,000 homes are burglarized in the U.S. every day, the equivalent of one every 30 seconds. On average, homeowners lose $2,661 to thieves when someone breaks into their home. Burglars surveyed in prisons say that home security systems are one of the things they look for when ruling out a house for a break-in. Despite this, only one in four households has a home security system.
Home security systems are available at many different price points, each with its own benefits and drawbacks. Homeowners look for reliability, ease of use, automated features, and cost. Keep reading to learn more about the four types of home security systems.
Monitored Home Security Systems
When people think of home security systems, this is the type that often comes to mind first. A monitored system has sensors set off when someone opens a door or window or breaks the window glass while entering the home.
When the sensor goes off, a signal is sent to a remote monitoring center. There, professionals from the security company will contact authorities and send someone to investigate.
These systems must be professionally installed. A monthly subscription fee must be paid to keep the system running. Over time, this can be expensive. However, some find that this home improvement promises a high ROI.
Unmonitored Alarms
These are alarms that come with the same sort of sensors as those above. The difference is that, instead of a signal sent to a monitoring station, these home security systems use a loud alarm as a deterrent.
This sort of alarm has the benefit of being low maintenance. Once installed, this style needs little to continue to operate.
The downside of this alarm style is that it requires that someone hear and respond to the alarm when it goes off.
Since most home invasions occur during daytime hours when people are at work, this would mean that someone in the neighborhood would have to hear and respond. As a result, this alarm style is best for areas where neighbors are nearby.
Self-Monitored Home Security Systems
These systems send a signal to the homeowner's mobile phone when something triggers one of the sensors. They also often include security cameras that will either run continuously or turn on when motion or an entry to the home is detected. Some are available as home automation services that also control systems like the home's lighting or thermostat.
In some cases, the homeowner handles all systems, including storage for any images or video. Others are part of a monthly subscription plan that offers cloud-based storage for security video.
Wired Versus Wireless Security
Some home security systems are wired into the home's electric and landline phone lines. Batteries power others for wireless installation.
A wired system can be less maintenance, as there are no batteries that must be charged. However, if the home loses power, the security system will go out, as well.
A wired system typically has to be professionally installed. Wireless systems, by contrast, can typically be installed by the homeowner without the need for fancy tools or high-end technological capabilities. Typically, sensors need to be placed on shelves or attached to walls or corners. State-of-the-art security systems are one of the features homebuyers should be looking for.
Stay Safe With Home Security Systems
There is no one answer to every homeowner's security concerns. Each household must decide on their own what their budget is, how at risk they feel, and how they want to handle home security. The right security systems can boost property values and improve homeowners' comfort. Talk to several security companies and look online for reviews of self and unmonitored systems. Learn more about what sorts of services each offer and which fits your home needs best. By taking a few precautions, you can significantly improve the protection of your home.
Google Reviews
⭐⭐⭐⭐⭐ "Chris is an incredible agent who always had my best interests in mind. He was responsive, conscientious, and experienced. Could not have trusted him more!" -Merrill B. on Google