Read This Before Moving To & Living in Reno, NV! - The Definitive Guide
Posted by Chris Nevada on Monday, November 7, 2022 at 9:45 AM
By Chris Nevada / November 7, 2022
Comment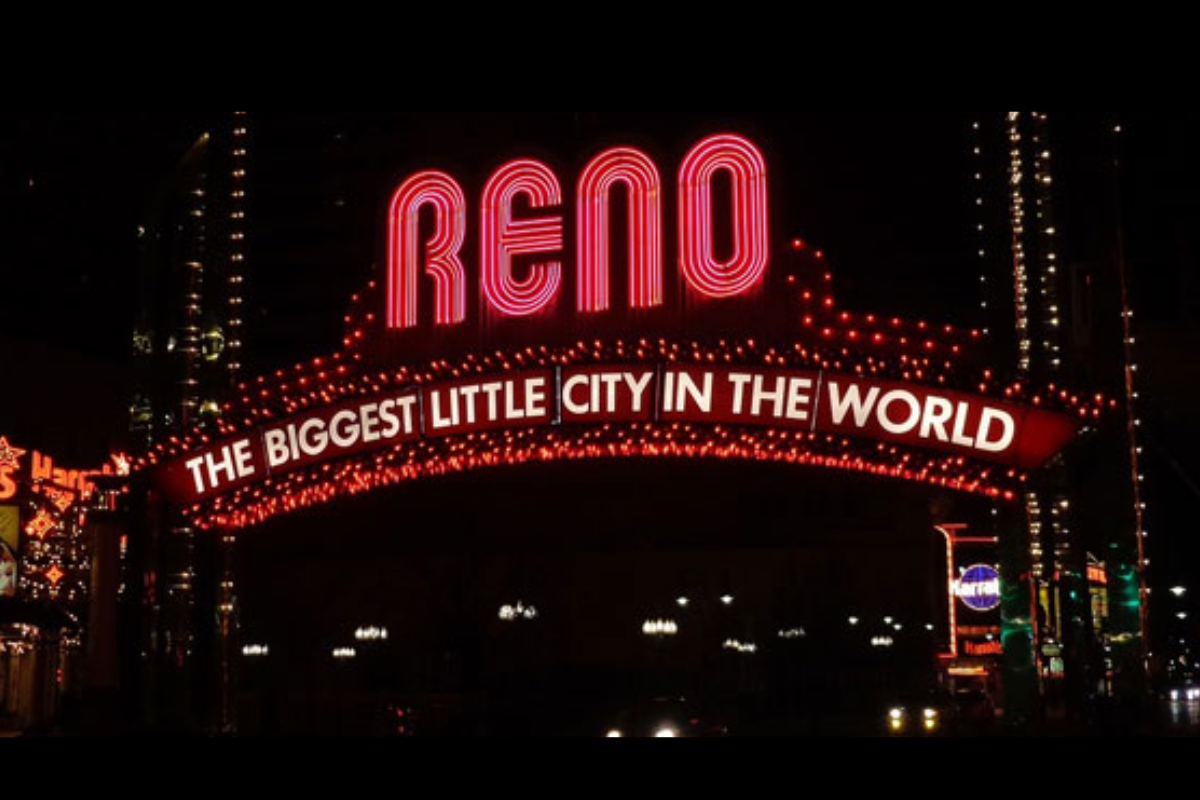 Reno holds the title of "The Biggest Little City in the World" and is located at the foot of the Sierra Nevada in the northwest section of Nevada. Second to the Las Vegas Valley, Reno is one of the most populous metropolitan areas in the entire state and includes Washoe, Storey, and Lyon Counties, as well as the capital of the state, Carson City and has a population of approximately 250,998 people. But what's it like living in Reno?
Reno, Nevada, is home to not only some of the most thriving casinos, hotels, and nightlife but also some of the most picturesque scenery. With the Sierra Nevada mountain range, Lake Tahoe, and Tahoe National Forest found along the borders of Reno, gorgeous views and peaceful getaways are but a short drive away from the busy city.
Table of Contents
History of Reno, NV
Reno's history begins before the town was established as a town, when the area was used as the main crossing point of the Truckee River, which flows west to east from Lake Tahoe to Pyramid Lake. The pass was used frequently as travelers traversed to the California gold rush of the late 1840s and '50s. This river crossing became instrumental in the creation of Reno's mining and agriculture trade. As the economy became established, Reno was made an official town in 1868.
The addition of the Central Pacific Railroad connection to the Union Pacific Railroad (forming the First Transcontinental Railroad) aided in the city's ever-growing economy. Reno continued to grow and prosper as a business and agricultural center throughout the late 1800s.
In 1926, the Reno Arch was erected and was meant to promote the Transcontinental Highways Exposition of 1927. Reno City Council decided to keep the arch as a permanent downtown gateway and prompted the citizens to come up with a slogan to stamp onto the giant arch. G.A. Burns of Sacramento came up with the prize-winning slogan of "Reno, the Biggest Little City in the World" and the slogan has stuck over the decades.
When the state of Nevada legalized open gambling in 1931, Reno jumped on board with the opening of what they hoped would become prosperous casinos. They took a leap, and it paid off immensely. The Bank Club, one of the first casinos opened in Reno, became the state's largest employer and one of the largest casinos in the world. This club, along with places such as The Palace, launched Reno to the top of the gambling tourism industry where they have stayed for many, many years.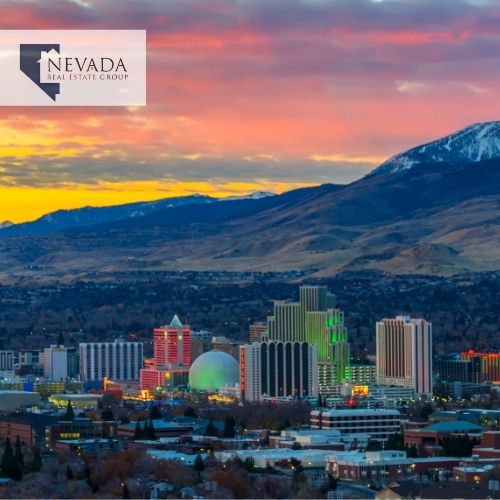 Over the years, Reno expanded from its primary tourism attraction of casinos and ventured into the arts and culture world. Reno became the place to go for budding artists and performers. The city was big enough to create an art scene, but not so big that the "little guys" just starting out their careers were overshadowed. The combination of the casinos and the artistic experimentation has shot Reno into a hub of unique experiences and attractions.
Reno is the third largest community in Nevada and houses a large population of young, single, educated, and budding entrepreneurs, making Reno ideal for young professionals or anybody who is interested in becoming a part of a very social and active community.
The median cost of an existing single-family home in Reno is $416,500. The types of properties found in this area range from charming single- or two-bedroom condos in the city listed between $130,000-250,000 to exquisite, multi-bedroom estates in the country listed around $2,000,000, including note-worthy portions of land. With such an extensive variety of housing options, Reno has a place for anyone and everyone.
Between the downtown sections of real estate and the spacious countryside homes, Reno offers incredibly diverse living opportunities in a wide range of budgets. Reno is fit for families, active retirees, or single young adults looking to get their start in the world.
Popular Reno Neighborhoods To Move Into
A moderate-income suburban neighborhood in Reno, Nevada. The median real estate price in this area is $414,057 and consists of medium to large single-family homes and mobile homes. Most of the properties in Panther Valley were constructed fairly recently, between the year 2000 and now.
This busy area of Reno is made up primarily of studio to three-bedroom apartment complexes and high-rise apartments, as well as a few single-family homes. Most of the real estate in this neighborhood is renter-occupied. The median rental price for City Center is $784. The median cost of real estate is $412,557.
Cheyenne Dr./S Virginia St.
A suburban neighborhood and one of the more expensive areas to live in Reno. With a median real estate price of $872,809, this neighborhood is more expensive than 97.5% of all the neighborhoods in Nevada. The average rental price is $2,761, higher than 98.7% of the rest of Nevada. Cheyenne Dr./S Virginia St. consists mostly of medium- to large-sized single-family homes and townhomes. Most of the residential real estate is owner-occupied.
What To Do in Reno - Popular Attractions
There's so much to see and do in Reno and with such an incredible variety of activities and attractions, there's bound to be something for all types of people. Live music at the Grand Theater, sporting events at one of the many stadiums, guided tours through the decorated streets, and many other fantastic options await you in the ever-exciting Reno.
Basecamp is a rock-climbing wall that can be found at the Whitney Peak Hotel. This is the world's tallest artificial rock-climbing wall with a height of 164 feet that stretches along the exterior of the hotel and overlooks the famous Reno Arch. From beginner to advanced climbers, Basecamp is sure to satisfy any who attempt to reach the top of the wall.
The Reno Air Races, or the National Championship Air Races as its officially titled, are a must-see in the fall. This multi-day event put on by the aviation community occurs every September at the Reno Stead Airport, just a few miles north of Reno. Deemed "the world's fastest motorsport," Air racing is the epitome of excitement and should not be missed.
A step into the past is what you'll find in Virginia City, about a half-hour from Reno. The small town is set up to look just like it did back in the late 1800s and visitors can tour through the former mining community, taking in the Old West shops, saloons, and museums. A vintage locomotive tour will take you through the mines that were flush with activity during the California gold rush. Virginia City provides hours of historical entertainment fit for the whole family.
Explore The Great Outdoors Surrounding Reno, NV
Reno is nestled right next to three major bodies of water: Lake Tahoe (one of the most popular lake destinations in the state), the Truckee River, and Pyramid Lake. With the many parks and mountains settled into Reno, skiing and snowboarding, snowmobiling, ice skating, and snowshoeing are among the most popular winter activities and hiking, fishing, rafting, and biking are the favored summer-time hobbies.
Lake Tahoe is located about 20 miles west of Carson City and is known for its pristine, crystal-clear waters and stunning mountain views surrounding the lake. Since it straddles the Nevada-California border, Lake Tahoe draws tourists from all directions. Access to the lake is available year-round, making for amazing summer recreation out on the lake as well as winter sports up in the mountains. Ski resorts and lakeside casino resorts make up a large portion of Reno's tourism income.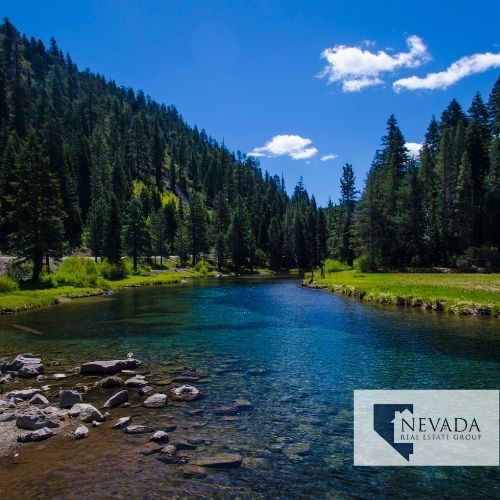 Floating down the Truckee River is a bit of a tradition in Reno. Rental options are available, where you can try out kayaks, rafts, or tubes to sail lazily down the length of the river. Locals know to bring their own floating devices and perhaps a refreshing beverage for a relaxing afternoon spent cruising down the flowing waters of Truckee River.
Tahoe National Forest includes the spectacular 2,617-meter peak of Sierra Buttes. The forest has an outstanding area of 1,261.71 square miles and extends over six counties: Sierra, Placer, Nevada, Yuba, Plumas, and El Dorado. Many natural and man-made resources are available to all those who venture into Tahoe National Forest including hundreds of lakes and reservoirs (particularly Boca Reservoir), river canyons, and miles upon miles of trails including a portion of the grand Pacific Crest Trail. With such a large forest and amazing bodies of water, Tahoe National Forest is the picture-perfect location for taking in all of nature's sensational beauty.
A Focus On Education
The Washoe County School District is made up of 96 schools and approximately 64,000 students, making it the second-largest school district in Nevada. The WCSD has a total of 66 elementary schools, one special education school, 16 middle schools, and 13 comprehensive high schools.
Outside of the school district, Reno also offers several charter schools, including elementary schools and high schools, as well as five private elementary schools and two private high schools.
Whether you're interested in public, charter, or private schools, Reno will provide exactly what you're looking for.
The Art & Culture of Reno, NV
Once primarily known for its casinos, Reno has branched out into the artistic world. Walking downtown Reno, it's difficult to avoid coming across local artists' work. More than 185 public art pieces litter the streets of Reno including unbelievable murals and sculptures. Every summer, Reno hosts a month-long art festival called Artown, gathering hundreds of merchants, art galleries, and museums to showcase local and international artwork, both visual and performing.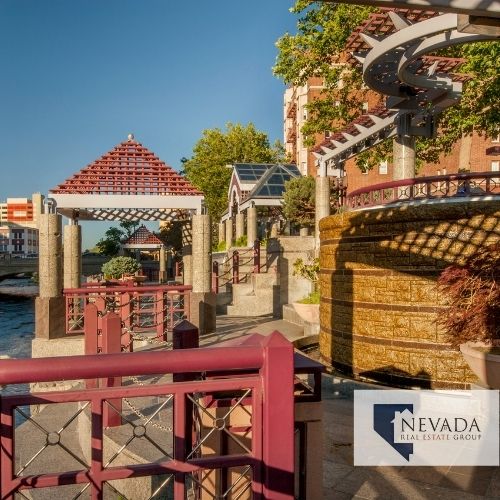 Reno is also stocked with several interesting museums. This includes The Nevada Museum of Art, which focuses on human interaction with the land and the protection of nature. Also, The National Automobile Museum contained 200 cars that were from the collection of William F. Harrah, including Elvis Presley's famous 1973 Cadillac Eldorado. A 30-minute drive to Virginia City will bring you to the Mark Twain Museum, showcasing the author's many works and displays what life was like during his residency in the city.
Music is a staple of Reno culture, as is obvious with their housing of numerous music venues such as the Pioneer Center for the Performing Arts, the Reno Philharmonic Orchestra, and the Reno Pops Orchestra. These various musical organizations are proud to include musicians of all ages and stages and show off their talented members in many different events and festivals, both in their hometown and branching out, nationwide.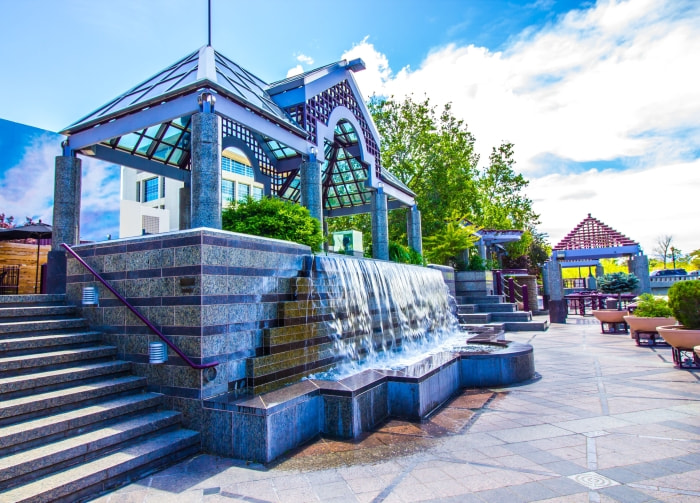 Restaurant and Shopping Variety
Downtown Reno offers a plethora of diverse foods and restaurants. Whatever you're craving–Italian, Japanese, Mediterranean, southern comfort food–Reno is guaranteed to provide that and more. Reno is also known for its unique food tours; walking tours of downtown Reno with an emphasis on the arts and food. While walking around, taking in the creative works done by local artists, several stops are made to various restaurants or food carts where a delicious something is provided. Often, the chefs of said delicacies will come out and take a bow and divulge a little about their masterpieces.
The Brewery District in Reno houses some of the finest craft breweries in the state. Revision Brewing in Sparks, which boasts of its heavy IPA selection and decorated labels designed by locals, and Great Basin Brewing Company in both Sparks and South Reno, set the craft brewing industry in motion in Reno. Since they've developed, several other incredible breweries have sprung up, creating a diverse and creative option for beer drinkers all throughout the city.
Reno is home to both large-scale shopping centers as well as boutique, locally owned, and operated shops. Reno is proud to offer fun and quirky one-of-a-kind shopping experiences to locals and tourists alike. Custom clothing, craft wine, and beer, used bookstores with a small-town feel, and so much more can be found wandering the streets of Reno.
Midtown specializes in these unique, locally-sourced shops. Micano is a shop that creates funky and intriguing home furniture and decor. The Vassar House is an antique boutique that provides one of the most extensive vintage collections around, including being run out of a delightful 1930s-era home. Junkee Clothing Exchange offers recycled clothing, accessories, shoes, and an assortment of eclectic odds and ends.
Looking To Move To Reno, NV? Speak With Our Expert Real Estate Agents
Looking to purchase a home in Reno? Allow our Reno real estate experts to guide you when purchasing your new Reno property or the sale of your current residence. As local real estate agents, we have insider knowledge on the dynamics unique to Reno, Nevada, real estate.
Contact Nevada Real Estate Group at eXp Realty, LLC to learn more about representation for buyers and sellers. Preparing to sell your Reno home? View our market analysis page for a home value estimate within moments.
Google Reviews

"They provided many options for us to look at that fit our wants and needs. We ended up with *the* perfect home! Relocating from Vegas to Reno can be stressful, but they took charge and made it as easy as possible for us." -Nicole O. on Google

"Would highly recommend to anyone in the market to buy a house in the Reno area!" -Jenn E. on Google

"We moved from SoCal to the Reno area and our realtor and her Nevada Real Estate Group were fantastic! This realtor went above & beyond for us!" -Bill L. on Google

"Chris is an incredible agent who always had my best interests in mind. He was responsive, conscientious, and experienced. Could not have trusted him more!" -Merrill B. on Google

"This team was very genuine and eager to find us the right home. They were always there for us when we had any questions or concerns and were extremely helpful during this process. We feel truly lucky to have worked with this real estate group and would recommend them to anyone who has any real estate needs!" -Andrew H. on Google

"If you are looking to buy or sell real estate look no further! This team has extensive knowledge & will go the extra mile for all your needs. I highly recommend the Nevada Real Estate Group." - Katrina K. on Google