Sparks Multi-Family Homes For Sale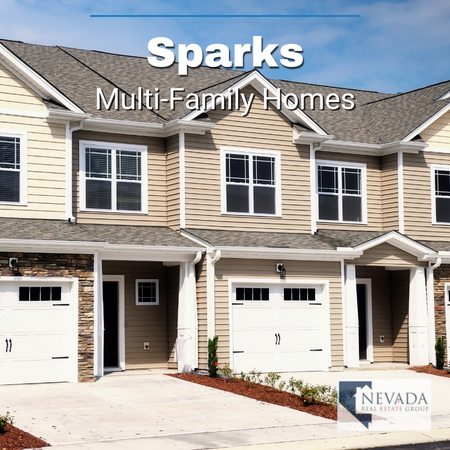 Uncover the best Sparks multi-family homes for sale & Sparks real estate below! For up-to-date information on Sparks commercial real estate or to schedule a private tour of the many Sparks multi-unit properties available to purchase today, contact Nevada Real Estate Group at eXp Realty, LLC today.
So you're ready to expand your investment portfolio. If you're interested in investing in real estate, multifamily homes are a great way to get into investment properties. There are many benefits to investing in multi-family real estate, and investors often find multi-family properties a great way to get started in Sparks real estate investments without the complexities of investing in commercial real estate. Some of the benefits of purchasing a multi-family property include:
Income - One of the most clear benefits of investing in real estate is that it can provide you with a steady stream of income. Whether you're looking to make a profit through equity or monthly cash flow, renting out property to multiple tenants is a fantastic way to bring in money.
Lowered Risk - Multi-family properties are a great way to invest your money - even if the economy takes a turn for the worse, people will always need somewhere to live. During recessions, when homeowners are forced to sell their homes because they can no longer afford them, they often choose to move into rental properties. While commercial real estate may experience more vacancies during tough economic times, rentals rarely sit empty for long. Having multiple rental properties also helps keep income flowing when one is empty between tenants.
Scalability - is one of the main reasons why multi-family properties are a great way to break into the rental property owner market. By growing their assets one property at a time, property owners can enter the market with a low barrier to entry.
Passive Income - The benefits of passive income are well-known - and multi-family real estate investing is a great way to generate it. By hiring a property manager to take care of the day-to-day details, investors can sit back and watch the money come in, without having to do any work themselves. This frees up their time to focus on other things, like their full-time job or other investments.
Equity - One of the benefits of multi-family real estate is that it tends to be more resilient to market fluctuations than other types of property. Values tend to increase steadily, providing property owners with additional income from appreciation in addition to their rental income.
Tax Benefits - Multi-family properties offer plenty of tax advantages that many property owners find more beneficial than other types of investments. However, in order to get the most out of these benefits, it's important to work with a great accountant who will help you maximize them.
Multi-family real estate investments in Sparks, NV can be very lucrative for investors. With the help of a trusted and experienced real estate agent, you can find the best multi-family homes for sale in Reno that fit your investment goals.
Sparks is a wonderful place to buy your first or next home, and as a community, they have so much to offer. The real estate selection is vast, including newly constructed homes, golf course homes, multi-family homes, gated community homes, and luxury homes. No matter what type of home you are looking for, Nevada Real Estate Group has the perfect real estate option for you.
Multi-Family Homes For Sale in Sparks NV
Sparks Multi-Family Home Listings
September 29, 2023
See All Homes for Sale in Sparks
View TODAY's New Listings by beds, baths, lot size, listing status, days on market, & more!
Multi-Family Homes by Community
Considering the purchase of a multi-family home in Sparks, Nevada? Call your local REALTOR®, Nevada Real Estate Group at eXp Realty, LLC, at (775) 750-1700. Our real estate experts know the ins and outs of the Sparks multi-family housing market.
Sparks Multi-Family Agents
If you're buying or selling a multi-Family unit in Sparks, allow our real estate experts to guide you through the process with your Sparks Multi-Family Homes real estate specialist. As your local REALTOR®, we have exclusive knowledge concerning the unique dynamics of the Sparks investment properties market.
To learn more about agent representation while buying or selling your Sparks multi-family property, contact Nevada Real Estate Group at eXp Realty, LLC. Check out our free market analysis page to receive a home value estimate within minutes.
Search Multi-Family Homes For Sale in Sparks NV
Back to Sparks Homes For Sale
Google Reviews
⭐⭐⭐⭐⭐ "Shelby has become our lifetime real estate agent. She got our house sold in 36 hours! Even after our initial buyer backed out. She led us through the process of selling, even through the bumps we encountered, with so much knowledge and patience and she kept me calm through it all! She even negotiated way over asking price. When it came to buying our new home, she found us exactly what we were looking for. Everything has been effortless with her as our agent. If you are looking for your agent, Shelby is it! 10/10 recommend!" -Megan L. on Google
⭐⭐⭐⭐⭐ "Would highly recommend to anyone in the market to buy a house in the Reno area!" -Jenn E. on Google
⭐⭐⭐⭐⭐ "Our son is moving to Reno for school and we would rather his roommates assist with our mortgage rather than pay more in rent. We wanted him to have a place to call home and take pride in the upkeep. We didn't know the area so we wanted an experienced local realtor. We chose Aaron because he has strong ties to the community and has a vast support team. He helped us every step of the way. Finding a truly knowledgeable realtor saved us time and heartache. We had no problems with the loan process, title company, inspections, and closed on time. He even helped us to beat out an ALL cash offer. Astonishing! Start your buying process with Aaron. Aaron offers full service.
No need to look further. He IS THE BEST!!" -Kirsten G. on Google
⭐⭐⭐⭐⭐ "Chris is an incredible agent who always had my best interests in mind. He was responsive, conscientious, and experienced. Could not have trusted him more!" -Merrill B. on Google
⭐⭐⭐⭐⭐ "Edye was wonderful when she was helping us buy a house. She stayed in constant contact, took us all over the place with many miles between houses, and was always available. She also is very sweet and super easy to get along with. I gave her five stars all the way around and absolutely recommend her to future clients!" -Dorothy W. on Google
⭐⭐⭐⭐⭐ "Jen Rosser is hands down the best realtor we have ever experienced. Her professionalism, figuring out what we want, hands-on help, and ability to close is unmatched. We have bought and sold many homes, and our experience with her as our realtor stands out above all others!" - Logan A. on Google