8 Types of Real Estate Investment You Should Know
Posted by Chris Nevada on Monday, January 31, 2022 at 7:42 AM
By Chris Nevada / January 31, 2022
Comment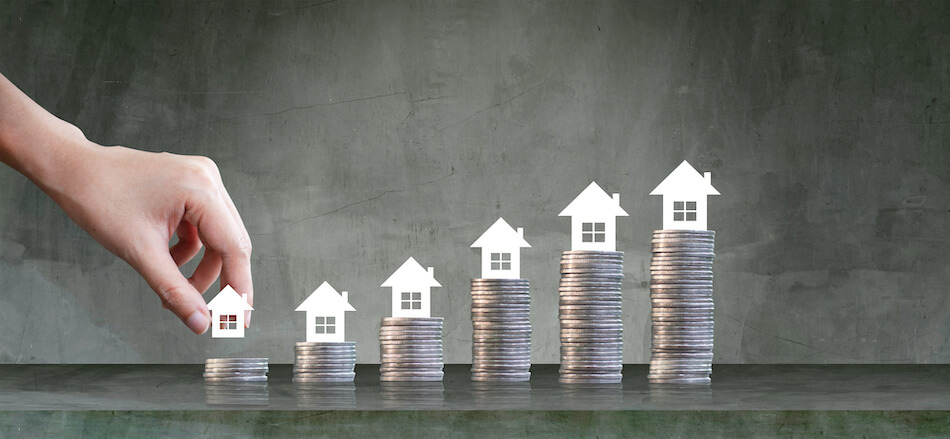 When someone is looking to invest, real estate is generally the best place to start. There are many good reasons to invest in real estate. Real estate investors can enjoy passive income and also watch their assets increase in value over the years. Furthermore, many real estate investments offer tax advantages. There are many ways to get involved in real estate investing, from first-time homebuyers looking for equity in a new constriction home to real estate moguls who own numerous apartment complexes. Read on to learn eight ways to get started investing in real estate.
For informational purposes only. Always consult with an attorney, tax, or financial advisor before proceeding with any real estate transaction.
Table of Contents
Buy a Home
When people talk about homeownership as an investment, it's not just a figure of speech. A home is one of the few purchases that increase in value over time. Although buying a new construction home doesn't pay cash right away, it pays "current dividends" by providing a place to live and enjoy. Additionally, when the home is sold, later on, fluctuations in the housing market can result in impressive capital gains. For most people, their home becomes their most valuable asset.
Earn Passive Income with a Rental Property
Another way to invest in real estate is to own a rental property. People who are looking to diversify after purchasing their first home may choose to buy a vacation home or a condo that can be rented out. As such, they become a landlord. That's a job that can be very rewarding but can also carry its share of work and headaches. You'll have to find tenants, keep the property in good repair, and deal with any issues that arise. However, with a good location and good renters, the difficulties can be nominal.
To avoid the challenges of being a landlord, some people offload the job to a property management company. Other people buy a duplex or fourplex and live in one of the units, so they're always on hand to keep on top of things.
Rent Out Commercial Real Estate
Commercial real estate is any property that's zoned for use by a business. This could be a single business or a multi-business asset such as a strip mall. These opportunities generally require a larger investment than a residential rental property because of the stringent rules and regulations. For example, commercial real estate that's intended for use as a restaurant requires special ventilation and equipment that can be expensive to install. A few pros of commercial real estate investments are that commercial tenants usually pay higher monthly rates and sign multi-year leases.
Real Estate Investment Trust (REIT)
A REIT is a way to invest in real estate without any personal management responsibilities. A corporation or trust takes money from a group of investors and buys a pool of properties that produce income. Many REITs specialize in a specific type, such as hotels, malls, or office buildings. When the time is right, investors can sell their shares and walk away with a good return on investment.
Real Estate Mutual Funds
People interested in taking the concept of a REIT a step further will be excited by real estate mutual funds. These mutual funds invest in REITs and in companies that operate real estate. Rather than buy a single REIT, mutual funds offer a more diversified real estate portfolio at a similar level of investment. Additionally, shares can be bought and sold easily for optimal security.
Crowdfunding Real Estate Investment
Almost anything can be accomplished on the Internet today, and real estate investment is no exception. Some crowdfunding investments are limited to deep-pockets investors, but others can be bought into with as little as $500. As with a lot of online opportunities, it's a high-risk, high-reward scenario. Many crowdfunded real estate investments are small and local, for example, a small apartment building. There's a greater chance of default than with other real estate investments. Crowdfunding investors should do ample research before contributing any amount of money.
Vacation Home Rental
Airbnb and other rental-by-owner companies are in the news these days, vacation homeowners in Reno and everywhere else are getting on board. Others are buying vacation homes solely to rent them out. People make a lot of money doing this, but there are some drawbacks. For example, the high guest turnover rate can lead to excessive wear on the home. Some vacation rental owners end up losing their profits to unplanned repairs.
Buy, Repair, Flip, Repeat
People make money flipping houses, but it's not as easy as it sometimes looks on TV. It helps to be a competent DIYer and familiar with the important questions to ask at an inspection. There are two ways to flip. One is to fix the home up and sell it quickly for a profit. The other is to buy a house in a neighborhood that's about to experience rapid appreciation, hold it for a few years, and then sell it.
Which Is the Best Real Estate Investment?
As with any investment, there are some risks involved when purchasing real estate. Anyone interested in real estate investment should first consider their budget, risk tolerance, and the amount of time they're able to dedicate to managing a property.
For informational purposes only. Always consult with an attorney, tax, or financial advisor before proceeding with any real estate transaction.
Google Reviews
⭐⭐⭐⭐⭐ "They provided many options for us to look at that fit our wants and needs. We ended up with *the* perfect home! Relocating from Vegas to Reno can be stressful, but they took charge and made it as easy as possible for us." -Nicole O. on Google
⭐⭐⭐⭐⭐ "Would highly recommend to anyone in the market to buy a house in the Reno area!" -Jenn E. on Google
⭐⭐⭐⭐⭐ "We moved from SoCal to the Reno area and our realtor and her Nevada Real Estate Group were fantastic! This realtor went above & beyond for us!" -Bill L. on Google
⭐⭐⭐⭐⭐ "Chris is an incredible agent who always had my best interests in mind. He was responsive, conscientious, and experienced. Could not have trusted him more!" -Merrill B. on Google
⭐⭐⭐⭐⭐ "This team was very genuine and eager to find us the right home. They were always there for us when we had any questions or concerns and were extremely helpful during this process. We feel truly lucky to have worked with this real estate group and would recommend them to anyone who has any real estate needs!" -Andrew H. on Google
⭐⭐⭐⭐⭐ "If you are looking to buy or sell real estate look no further! This team has extensive knowledge & will go the extra mile for all your needs. I highly recommend the Nevada Real Estate Group." - Katrina K. on Google