10 Tips To Buying A New Construction Home
Posted by Chris Nevada on Monday, January 31, 2022 at 6:54 AM
By Chris Nevada / January 31, 2022
Comment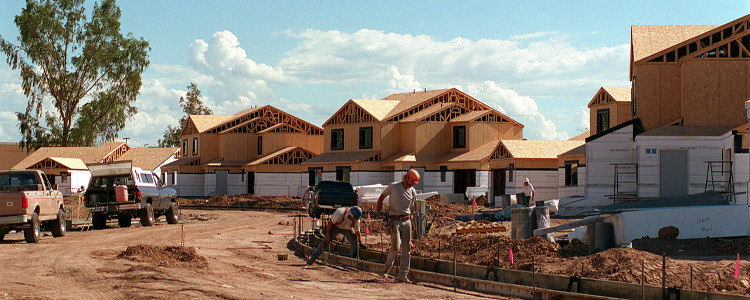 When you make the decision to purchase a home, there are essentially two options: sift through the listings and find a pre-existing home that checks all of your desired specifications, or build a brand new home, customized to your specific lifestyle. The only way to truly get everything you envision for your dream home is to buy a new construction home and get exactly what you want.
Buying a new construction home can be an overwhelming decision, but with the proper preparation and a dedicated attitude, it can be incredibly exciting and rewarding! To aid you in the home-building process, we've put together a list of ten tips to help you through this exciting time. If you've decided to take the plunge and build your dream home, read on to learn more and discover some helpful tips to ensure a smooth and enjoyable experience!
Table of Contents
1. Create The Perfect Team
The first step to buying a new construction home is putting together an excellent team to set you on track. First off, you're going to want an experienced real estate agent who's familiar with new construction projects. This realtor will work to the best of your advantage, giving you tips on what questions to ask, recommendations on a reputable builder, and advice on how to best utilize your budget. You also need to find a real estate agent who's compatible with you. Not only do they need to compliment your personality, but they need to be flexible as well as ready and willing to get you everything you've been dreaming of in a house.
The next member of your team will be the building company in charge of creating your dream home. Whether you're building from scratch, working to design a home together, or choosing from a variety of models, you need to get on the same page as your builder. Do your research, as not all companies are the same. Some contractors work strictly with set vendors and you'll need to agree to use their sources on everything from flooring to appliances. Others will offer a bit more flexibility, allowing you to pick and choose where your fixtures and features are coming from, which could allow you to save money on more affordable brand names. Whoever you choose, do your research, conduct some interviews, and be sure they will be the right company for you!
2. Find The Right Lender
Once your team is set and you have a vision for your dream home, you need to set a budget. You'll need to meet with a financial institution, a mortgage broker, or other lender company to determine how much you'll be able to afford and what you'll get approved for.
Just as is the case with builders, not all lenders are the same. Construction loans are slightly different from a traditional mortgage loan as construction loans are released in segments, or draws, throughout the building process. This will allow you to make payments to your builder, keeping them happy and the workflow moving.
Many times, the builder will recommend a lender to you, and some require you to only use their preferred lender. This will be something else you want to ask your builder upfront, as the lender they suggest may not offer the best deal.
3. Stick To A Budget
As soon as you know what you're pre-approved for, you can create your budget. Sticking to your budget is incredibly important when you decide to go with a new construction home, as it's easy to get swept up in the excitement of designing a home and picking out top-tier fixtures and overspend. As you work through the process of choosing a layout, picking out appliances, and examining tiling options, take note of every purchase made. Keep your notes organized and create a running tally of how much you have spent, this will help you stay on track and prevent going over budget.
Once you have a set budget, you can determine what you're going to splurge on and where you're going to cut back on expenses. If having top brand-name appliances in your kitchen is a high priority for you, you should factor that into your budget and maybe decide to save some money on your flooring by choosing the standard option or hunting around for the best deal or sales.
4. The Model Is Likely The Upgrade
One of the most popular options in new construction real estate is to choose a developer that offers a selection of five or six model properties to examine. You'll be able to tour through each layout that the company offers and choose the perfect design for your lifestyle. These models are presented in tip-top shape, flaunting all the incredible features and amenities to tempt you into choosing that model. What you need to keep in mind as you're touring through these homes is that the models typically showcase the very best options that the builder has to offer.
As you walk through the model property, you begin to fall in love with the style and aesthetics of the home, making it incredibly easy to picture yourself living in that home. You may see an extravagant fireplace that you hadn't envisioned initially, but once you see it, you just have to have it! The sparkling countertops on display may seem like the perfect fit but likely come with a hefty price tag. You need to realize that you have additional, often more affordable, options.
Every builder will offer a selection of standard and upgraded features. When you choose your home, ask the builder what the standard options are and be sure that you're not going over budget by picking the first model you see. Keep your budget in mind and only splurge where you can afford to, make sensible decisions that you won't regret later. Something to remember is that you can always start with the basics and upgrade later on.
5. Become A Negotiator
New construction homes are often a more expensive option than the more traditional route of choosing a pre-existing home. That being said, there are plenty of ways one can save money during the building process. Your best strategy? Become a tough and determined negotiator!
With the help of your experienced real estate agent, you can work together to negotiate the best deal from your contractor. Share your budget with your realtor, decide where you want to save money, and figure out where you're willing to be flexible and where you just won't compromise. Meeting with your builder with a plan in mind will help you to not only get the best deal but allow you to find the right builder for you, someone who is willing to work with you and make your dream come true.
6. Consider Going Green
Energy-efficient options have become increasingly popular over the last decade. Many homeowners have made the decision to opt for more eco-friendly appliances in order to decrease their carbon footprint. Building companies have started offering green options to their clients and work with environmentally friendly vendors.
These green appliances and utilities may start off as the more expensive option, but over time, they'll actually end up saving you money. One of the most popular energy-saving options is solar panels. Cities that are known for the high volume of sunlight are switching to solar-powered energy options. For example, many new construction homes in Reno are taking advantage of the sunny climate and offering extensive solar options, saving homeowners money and creating sustainable energy opportunities.
7. Get It In Writing
When you work with a reputable company, you'll likely have a smooth experience and they'll provide everything that they've promised you, on time. However, there's always a chance that someone will make a mistake and try to get away with it to save their skin. This is why it's a good idea to put absolutely everything in writing, something that an experienced realtor will know and ensure.
As you meet with your builder, take diligent notes, request written contracts, and be sure to document any negotiations you've agreed upon. Verbal conversations won't hold up if something goes wrong and could cause some costly, unexpected expenses. As you work through the building process, keep track of all these documents to ensure you're getting everything that you and your team have previously agreed on.
8. Get A Guarantee
Guarantees go hand-in-hand with getting everything in writing. A documented guarantee will ensure that your home is finished on the agreed upon completion date and will be specified in your purchase agreement documents. Have your realtor and lawyer review these documents to be sure that there are no loopholes and your contract is secure.
There is always the possibility that something will go wrong that's out of you and your builder's control. Anything from vendors unexpectedly closing to short building materials from a supplier could pop up during your building process. When you have a guaranteed completion date, the only thing you'll need to sweat is the delayed move-in date and if your builder can't get you in on the agreed day, they will be responsible for making it up to you. Sometimes this comes in the form of a cash bonus and sometimes they'll offer you free upgrades. However, if you don't have a signed guarantee, they can delay as much as they want with no repercussions.
9. Ask About Warranties
Warranties are incredibly important and you need to understand what's covered during your home-buying process. Most builders use third-party warranties covering materials and workmanship, but since every builder and warranty is different, you'll need to inquire about what specifically is covered and for how long. If the builder is using materials from different manufacturers and suppliers, they'll likely use separate warranties for each product.
As with all agreements between you and your builder, you'll want to get these warranties in writing right away. You'll want to be able to reference the specifics of what you originally expected and you can keep these documents together along with all of your housing contracts to refer to at a later date, should something go wrong with your materials or products.
10. Get Inspected
It's true, even a brand new home needs to meet and pass certain expectations and regulations. All throughout the building process, you'll need to keep up with certain standards set by health and safety rulings to ensure you're getting a safe and reliable home. Eagle-eyed inspectors will be able to come in with a fresh set of eyes and catch slip-ups or potential problems that your builder may have missed.
Your contractor will most likely have a set checklist of everything that needs to be inspected before they can move on to the next stage of building to keep everything up to code.
Before your home can officially be passed over to your ownership, it'll need to pass the final inspections. This can seem like a tedious stage, especially when you're so close to getting the keys to your beautiful new construction home, but it's one of the most important. Passing the inspections will not only give you the comfort of knowing your home is safe, but it'll also keep you from costly repairs within the first few years of owning your home.
Buying a new construction home is the ideal option if you're looking for your perfect forever home. Picking out fixtures, deciding on the best designs, and creating your ultimate vision is not only one of the best ways to guarantee you'll be satisfied with your tremendous purchase, but it's also the most rewarding experience you can take on in the world of real estate!
Google Reviews
⭐⭐⭐⭐⭐ "They provided many options for us to look at that fit our wants and needs. We ended up with *the* perfect home! Relocating from Vegas to Reno can be stressful, but they took charge and made it as easy as possible for us." -Nicole O. on Google
⭐⭐⭐⭐⭐ "Would highly recommend to anyone in the market to buy a house in the Reno area!" -Jenn E. on Google
⭐⭐⭐⭐⭐ "We moved from SoCal to the Reno area and our realtor and her Nevada Real Estate Group were fantastic! This realtor went above & beyond for us!" -Bill L. on Google
⭐⭐⭐⭐⭐ "Chris is an incredible agent who always had my best interests in mind. He was responsive, conscientious, and experienced. Could not have trusted him more!" -Merrill B. on Google
⭐⭐⭐⭐⭐ "This team was very genuine and eager to find us the right home. They were always there for us when we had any questions or concerns and were extremely helpful during this process. We feel truly lucky to have worked with this real estate group and would recommend them to anyone who has any real estate needs!" -Andrew H. <