Top 3 Schools In Incline Village, NV
Posted by Chris Nevada on Monday, November 21, 2022 at 9:00 AM
By Chris Nevada / November 21, 2022
Comment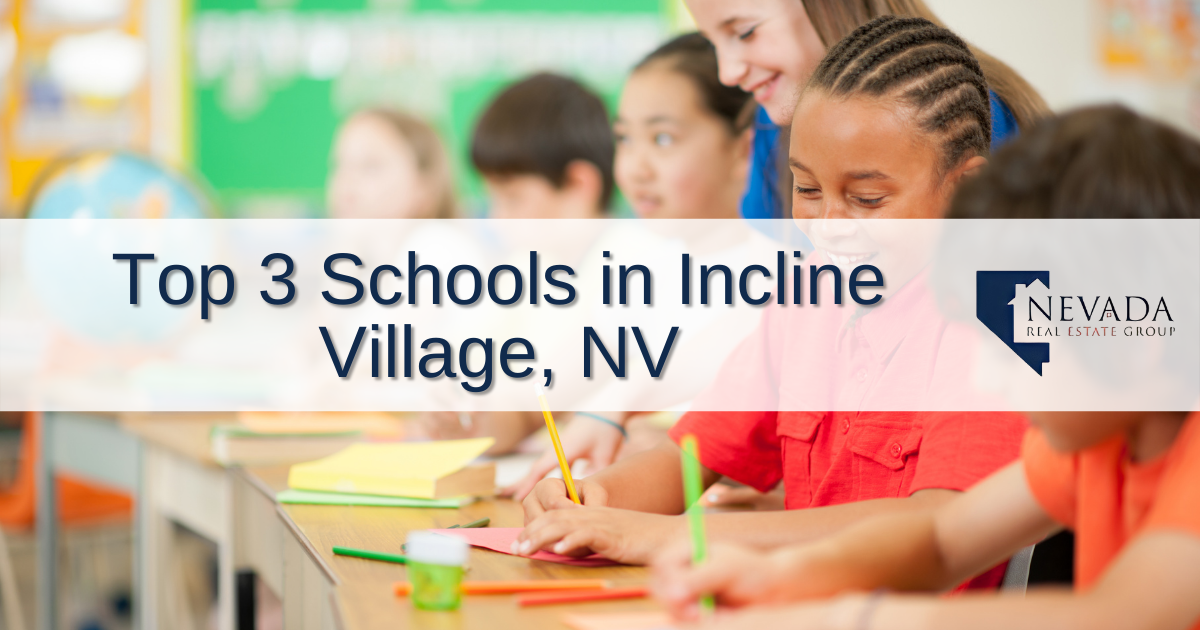 Incline Village is a small quaint town with a population of 9,160 as of 2020 and it is located on the northern shore of Lake Tahoe. This close-knit community is becoming increasingly popular amongst families looking for a home near Incline Village as they try to beat the hustle and bustle of the bigger cities nearby.
One of the main concerns families have when moving to a new town or city is whether or not their children will be attending a good school. In fact, a study was conducted of prospective homebuyers and found that parents will compromise things like having a garage, large backyard, and even an updated kitchen just to be able to live near a good school. After all, education is one of the most important aspects of parenting. Even, three-quarters of those who participated in the study stated that good schools were important when searching for a new home, which is why we wanted to share the best schools in Incline Village for people who are on the hunt for their next home.
The Top Schools in Incline Village, NV.
Does Incline Village, NV Have Good Schools?
At Nevada Real Estate Group, we have helped many families find their dream homes in Incline Village, and we are so proud when we tell prospective buyers that the local schools have outstanding ratings. There are 5 schools located within the town limits of Incline Village, and the Sierra Nevada University Holman Arts Media Center for college students to attend courses.
Incline Village is located within the Washoe County School District and is one of the top 5 school districts in Nevada. This makes the schools in Incline Village some of the best in the state. Washoe County School District also encompasses some of the best elementary schools, middle schools, and high schools in Reno. As well as some of the best elementary schools in Sparks, NV. Below we've listed the best elementary school, middle school, and high school in Incline Village to give you an overview of the top schools in the community. As well as listing a few very highly recommended private schools.
View All Homes For Sale in Incline Village, NV >>>
Incline Village Elementary Schools
915 Northwood Blvd, Incline Village, NV 89451
There is one public elementary school within the town limits of Incline Village. Incline Elementary School is located in the heart of Incline Village and has approximately 283 students.
Incline Elementary School holds grades Pre-K through fifth grade like most traditional elementary schools in Nevada. The thing that makes this school special is the teacher-to-student ratio. There are only approximately 13 students in each classroom. This makes a great learning environment as the students receive more one-on-one time with their teachers, and are paid more attention than in bigger schools.
Incline Village Middle Schools
931 Southwood Blvd, Incline Village, NV 89451
There is one public middle school located within the town limits of Incline Village. Incline Middle School is located just on the outskirts of the Village center. Parents love that their children can walk to their after-school activities or even walk home due to being in such a small community. Incline Middle School offers grades 6-8.
Incline Middle School has approximately 170 students which make for a very small school with a student-to-teacher ratio of only 7 students per teacher. The small class sizes ensure that no child gets left behind, and every student thoroughly understands what they are learning before moving on. Students love being able to ask questions without having to be skipped over or not noticed. They also love being able to fully enjoy every amenity the school has to offer without having to share with hundreds of other children.
View All Homes For Sale in Incline Village, NV >>>
Incline Village High Schools
499 Village Blvd, Incline Village, NV 89451
There is one public high school located within the town limits of Incline Village. Incline High School is located just down the street from the elementary school. Parents with children in elementary school and high school love having both schools in such close proximity to one another as it makes for easy after-school pickups.
Incline High School has approximately 347 students, which is a smaller school compared to the schools in Reno and Carson City. It offers grades 9-12 and has an average of 347 students to 41 teachers which make for an average of 8 students per classroom. Parents love knowing their children are getting an education in an environment where they are noticed and paid attention to.
Incline Village Private Schools
There are several excellent private schools located within the town limits of Incline Village.
Lake Tahoe School
Lake Tahoe School is a private school located on the eastern side of Incline Village. It offers grades Pre-K to 8th grade. The student-to-teacher ratio for this school is around 6 students per classroom which make for a close teacher-student relationship. Lake Tahoe School is accredited by The Northwest Association of Independent Schools (NWAIS) and is a member of the National Association of Independent Schools (NAIS).
Lake Tahoe School was established in 1997 on the premise of fostering a sense of community that honors each child's creativity and passion for learning. Its main mission is to help nurture disciplined minds, strong character, and healthy bodies while educating children to the best standards.
Lake Tahoe School does have tuition of approximately $28,000 for grades 5th-8th, and $26,000 for Kindergarten through 4th grade. There are programs available for tuition assistance.
I-School
I-School is a private school located close to the center of Incline Village and offers a non-traditional educational style. This school offers 2nd grade through 12th grade, with a total student population of 33. There are approximately 11 students per classroom which make for a close relationship between teacher and student. I-School is accredited by the Western Association of Schools and Colleges (WASC) as a Supplemental Education Program, which allows credit for their courses to be transferred to other schools.
I-School was designed to identify each student's unique learning style and desired outcomes to create a customized academic program that matches each student's interests and abilities. They are also a year-round school that strives to create confident students who are constantly succeeding in an academically rigorous environment created specifically for the individual student.
There is tuition to attend this school, each course taken ranges in price from $200 to $590 per course.
Village Christian Preschool
Village Christian Preschool is a Christian-based preschool for children who aren't old enough to attend school yet. Their mission is to begin the educational process while also incorporating their Christian beliefs into the curriculum. Not only do children start to learn the basics of school, but they also learn about the basis of their religious beliefs. Village Christian Preschool's main objective is to provide a safe, nurturing, positive environment that will help to ensure the development of healthy, successful adults. Social skills, learning to get along with each other, and learning appropriate problem-solving skills are among the most important lessons a child can learn to be successful and happy in life, and the Village Christian Preschool prides itself on its ability to start children on a path to success.
Village Christian Preschool does require payment, the monthly rate for 5 days a week is $850.
View All Homes For Sale in Incline Village, NV >>>
Contact An Incline Village, NV Real Estate Agent Near You
Incline Village, Nevada, is a fantastic place to buy a home. Whether you are in the market for a rural oasis, traditional suburb, or urban retreat, Incline Village is a warm and welcoming city that boasts excellent schools, a thriving economy, plenty of recreation, and some of the friendliest residents in the country! The experienced real estate agents at Nevada Real Estate want to help you find your next home. Contact our office today to find out about our current up-to-date listings.
Browse Incline Village Homes for Sale
Google Reviews
⭐⭐⭐⭐⭐ "Chris is an incredible agent who always had my best interests in mind. He was responsive, conscientious, and experienced. Could not have trusted him more!" -Merrill B. on Google